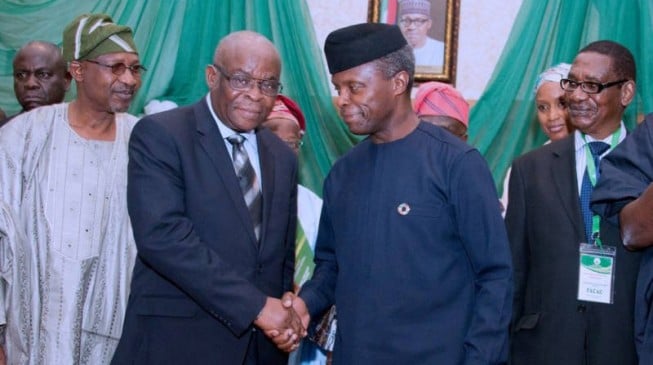 Acting Nigeria's  President Yemi Osinbajo on  Tuesday swore in Walter Onnoghen as the Chief Justice of Nigeria (CJN).
Osinbajo also conferred on the CJN the second highest honour of Grand Commander of the Order of the Niger (GCON).
The ceremony took place at the council chambers of the presidential villa, Abuja, on Tuesday.
Last Wednesday, the senate confirmed Onnoghen's appointment as CJN.
Before the confirmation,  he had been acting CJN since November 10, 2016, when his predecessor Mahmud Mohammed retired.
A controversy had brewed over President Muhammadu Buhari's delay in sending his name to the senate for confirmation as CJN.
But the tension was doused when news that the president had asked the senate to confirm him filtered in.
Onnoghen's tenure as acting CJN was due to end on February 10, but it was only two days before the time that the presidency communicated to the upper legislative chamber on his confirmation.
However, the senate could not consider the request then because it was on a three-week recess.
The National Judicial Council (NJC), which had nominated Onnoghen for the position, renominated him on February 9 – a day before the expiration of his three-month tenure.
Onnoghen, who is from Cross River state, is the only CJN from the south in 30 years.